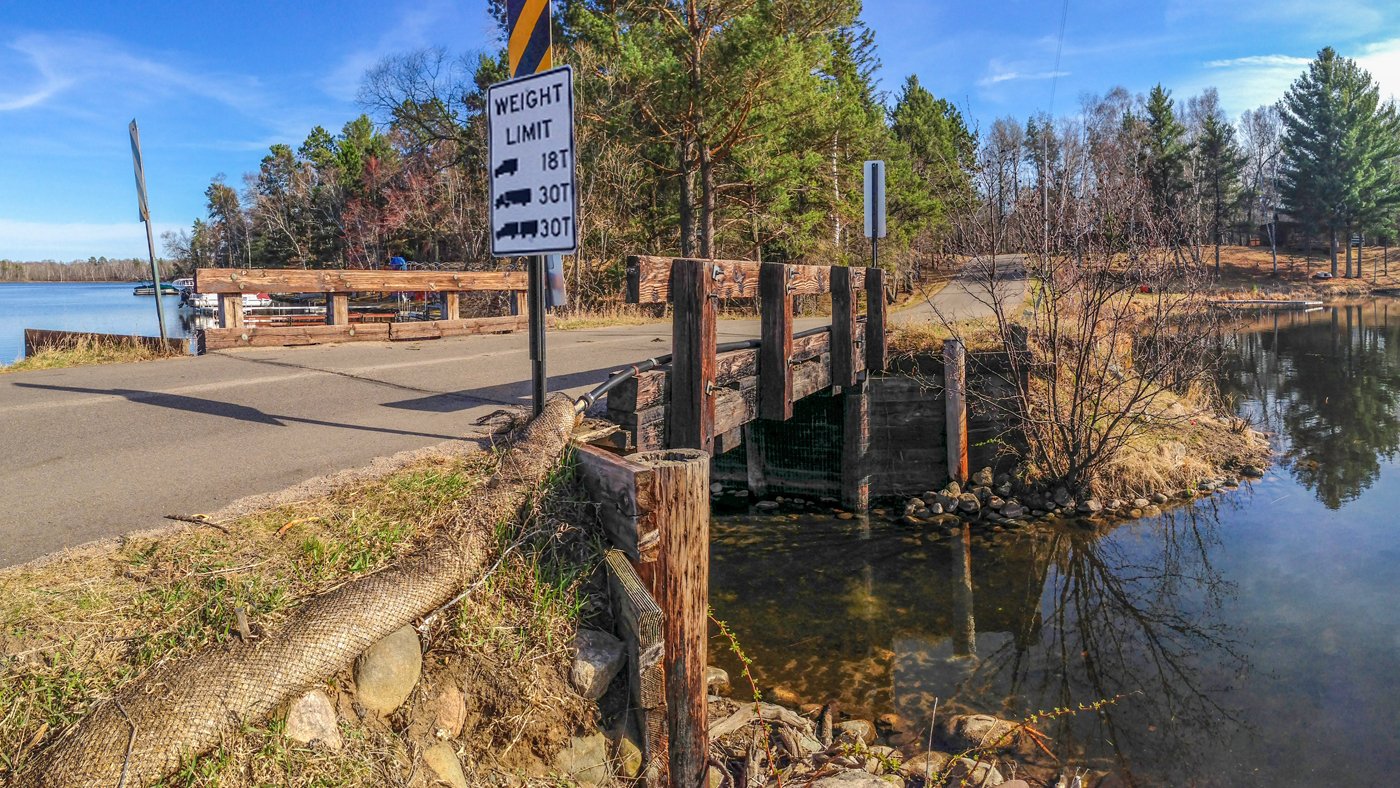 Dream Island Bridge Replacement
Crosslake, MN
May 21, 2018
Dream Island Bridge Project Update
The City Council approved the addition of 3-cable guard rail on the south side of the bridge. The contractor's updated schedule for this week is provided as follows:
Wednesday: H&R to install cable guardrail
Thursday: Gravel and Shaping (Anderson Brothers)
Friday: Paving (Anderson Brothers)
Weather pending activity planned to be started and finished early.
There will be periodic delays during the above work. Your patience during these brief periods is appreciated.
May 9, 2018
Dream Island Bridge Project Update
Final work items will be completed in the next few weeks, including concrete surface coating, approach grading, and paving. The City Council will be considering the addition of 3-cable guard rail on the south side of the bridge as recommended by the Public Works Commission. If approved, the guard rail installation will require short road closure periods of 5 minutes on the east and west side of the bridge to install the anchors, which is similar to the time required to install the anchors on the north side of the bridge last November. Your patience during these brief closure periods is appreciated.
November 27, 2017
Dream Island Bridge Project Update
Wooden railings were installed on each side of the bridge deck during the first week of November, and the bridge was opened to traffic on November 13, 2017. The temporary bypass road has been removed, and cable guard railing has been installed along each side of the north approach. The embankments have been rip-rapped, and temporary erosion controls have been established. Construction will conclude next spring when temperatures are warm enough to apply an earthen-tone surface finish to the concrete faces of the bridge, road embankments can be seeded, and the roadway approaches can be paved.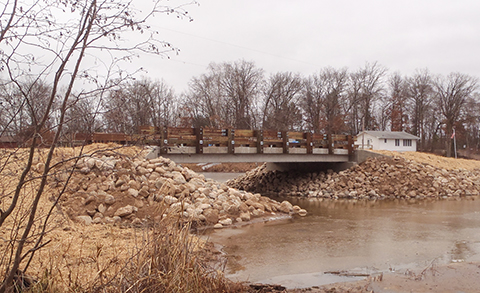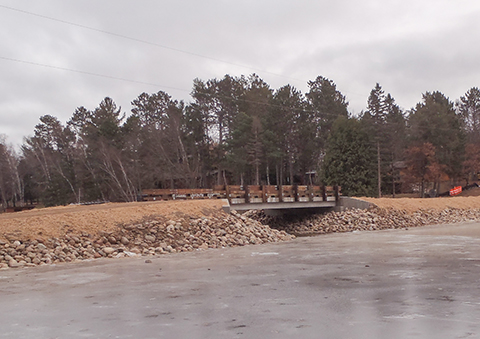 October 27, 2017
Dream Island Bridge Project Update
Construction has moved quickly beginning with completion of the bypass lane and removal of the old bridge on October 4th. The new piling, steel reinforcement, and concrete bridge abutments and wingwalls were completed by October 11th. Four pre-stressed concrete beams were installed on October 17th. Bridge deck steel reinforcement was installed by October 20th, and the concrete bridge deck was cast on October 23rd. The deck has been insulated to complete the cure and dry-out period. Railings will be installed prior to moving traffic from the bypass to the new bridge. The bypass road will then be removed. There will be follow-up work in the spring to complete the roadway approaches. Work to date is approximately one week ahead of schedule. Look for more updates on this webpage as the project moves forward. Thank you for your patience.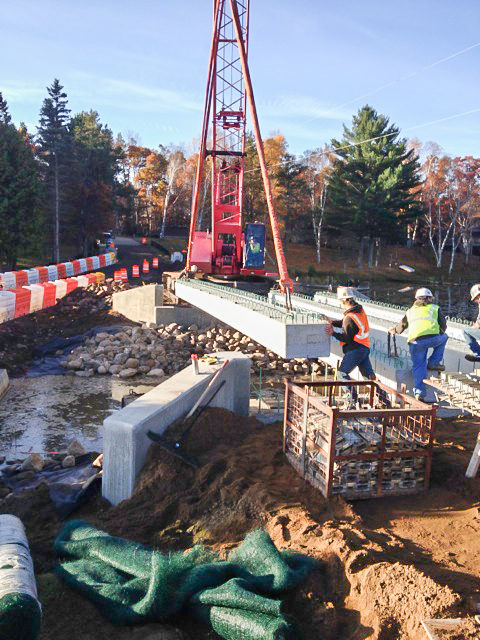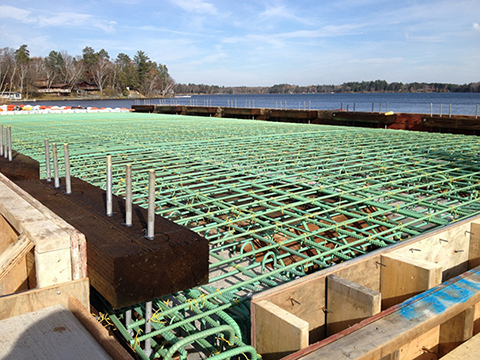 September 20, 2017
Dream Island Bridge Project Update
The City awarded a construction contract to Redstone Construction of Mora, MN on September 11, 2017, for their low bid of $465,787.25, which was within 2% of the engineering estimate. The contractor tentatively plans to begin mobilizing equipment to the project site on Monday, September 25th. Traffic will continue to use the existing bridge until the bypass lane is constructed. The bypass lane will be a one-lane road. A Pre-Construction meeting will be held with the contractor on September 21st to discuss utility coordination and schedules. Please be aware of construction signs and workers during the project, and maintain safe speeds through the construction zone. It is anticipated the new bridge will be ready for traffic use by November 30, 2017. We encourage residents to check this posting for further updates as the project proceeds.
August 3, 2017
Dream Island Bridge Project Update
The City received good news with a funding approval letter on July 25, 2017 from the Local Bridge Replacement Program (LBRP). The grant amount is based on a current estimate of $608,616.30 for engineering and construction costs of the bridge replacement. The City Council held a special meeting on August 1, 2017 to authorize advertisement for bids. Bids will be opened on August 30, 2017. Pending acceptable bid results and award of a contract, a tentative construction start date near the first of October is feasible with substantial completion toward the end of November 2017.
June 12, 2017
Dream Island Bridge Project Update
A bonding bill was recently passed in special session, and signed by Gov. Dayton. The bill provides approximately $16.5 million for local bridge replacements. The State is currently prioritizing projects that will be funded this year, and Crosslake's bridge will be considered. The DNR permit has been issued, and wetland permits have been issued by the U.S. Army Corps of Engineers. Easement acquisition is still in process.
May 5, 2017
Dream Island Bridge Project Update
The project status remains in the funding queue for a bonding bill to be passed for the State Bridge Account. Easement acquisition is in process. The DNR is completing the permit for work in public waters, and the wetland permitting is completed except for the Corps of Engineers final processing of their permit.
October 7, 2016
Project Status Report – October 7, 2016
State-approved bridge plans are in the funding queue in St. Paul. Easement/right-of-way acquisition is in process. The DNR permit application has been submitted, and is currently in review status.
May 27, 2016
Final Plans Submitted for Review/Signatures – May 20, 2016
Preliminary plan review comments were received, and a complete final plan set has been submitted for signatures required from Crow Wing County and MnDOT State-Aid. Easement descriptions have been prepared based on the final design in order to acquire permanent and temporary easements required for the project. The legislative session concluded with no transportation or bonding bill being passed; discussion is ongoing in St. Paul regarding convening a special session.
April 25, 2016
Preliminary Bridge Plans Submitted to County and MnDOT – April 12, 2016
Preliminary bridge plans, and the geotechnical report, were submitted to Crow Wing County Highway Department and the MnDOT Bridge Office on April 12th. The City is currently waiting for comments on this preliminary submittal. Once comments have been received, plans will be finalized, temporary and permanent easement descriptions will be prepared and reviewed with affected property owners, and the final submittal for bridge bond funding will be completed.
March 23, 2016
MnDOT Approval of Design Variances – March 21, 2016
A variance application was submitted to MnDOT for design variances from State-Aid standards in order to minimize the construction area and impacts to surrounding property owners. Two variances were requested: 1) a variance to the standard design speed of 30 mph to 20 mph, and 2) a variance from the standard 11-foot wide travel lanes and 1-foot wide shoulders to 9-foot wide travel lanes and 1-foot wide shoulders. These variances allow the design to more closely match existing road width conditions, topography, and the proposed 20-foot wide bridge. The design work will continue on this basis.
February 9, 2016
City Council Proceeds with Single-Span Beam Bridge Option – February 1, 2016
The City Council resumed discussion and consideration of a Resolution to move forward with the project at a meeting scheduled February 1, 2016 at 6:00PM at City Hall. The decision was made to move forward with the single-span beam bridge. WSN is now in design, and will be reviewing information as it is developed with the Public Works Commission and City Council prior to submittal of final plans to the MnDOT State Bridge Office.
January 27, 2016
Resumption of Recessed Council Meeting – February 1, 2016
The City Council received written and verbal comments at the January 20, 2016 Preliminary Improvement Hearing. The Council will resume discussion and consideration of a Resolution to move forward with the project at a meeting scheduled February 1, 2016 at 6:00PM at City Hall.
January 8, 2016
Council Approves Feasibility Report and Sets Date for Public Hearing
A public improvement hearing has been set for January 20, 2016, at 6:00 pm at City Hall. Click here to view a copy of the approved report.
December 28, 2015
Final Report, and Supplemental Arch-Span Bridge Alternative, Submitted to City
Citizen input at the December 7, 2015 Public Works Commission meeting led to a fourth bridge alternative being authorized for study, an arch-span pre-cast bridge. The final report, including the arch-span alternative, has been completed and submitted to the City. The report will be reviewed at a Special Joint City Council/Public Works Commission meeting scheduled for Monday, January 4, 2016 at 4:00PM at City Hall in Crosslake. The City Council will consider a Resolution to accept the report and set a date for a public hearing. Anyone interested in the project is welcome to attend the posted meetings.
October 27, 2015
Draft Study Reviewed with Crow Wing County Highway Department and MnDOT
The alternative bridge designs were reviewed with representatives of Crow Wing County Highway Department and the MnDOT District 3 office. The District State-Aid Engineer forwarded the draft report to the State Bridge Engineer for review, and we are currently waiting for feedback regarding which bridge options would be considered for funding through the State Bridge Bond Account, and what the resulting local share of the project cost may be in each case.
September 28, 2015
Alternative Span Bridge Study Authorized
The City Council authorized additional study of an alternative span bridge at their September 14, 2015 meeting. Preliminary drawings have been prepared by WSN, and will be reviewed and discussed at the October 5, 2015 regular meeting of the Public Works Commission.
July 27, 2015
Dream Island Bridge Project Update
An open house/informational meeting was held on July 17, 2015, to discuss the proposed project. City staff provided information that had been gathered to date, and residents living on both Dream Island and area channel properties provided the City with historical accounts of the causeway/bridge to the island. Initial pre-design input by the area DNR hydrologist was reviewed, and the primary indication is a box culvert is not a preferred solution, especially if maintenance including ongoing excavation and dredging would be needed to keep a channel navigable in the future. Area property owners also indicated a desire to see another bridge design solution that would improve water circulation and navigation if possible.
The DNR's permit history for the bridge:
1957 – DNR Permit to fill in the lake to construct a road to the island. This permit also required a waterway with a bridge be part of the design;
1960 – Roadway was constructed; however, it did not include a waterway or bridge;
Later in 1960 – Road developer was directed to open a channel;
1961 – A culvert (possibly 72" round) was installed;
1968 – The present wood timber bridge was installed;
1988 – The present wood timber bridge was refurbished.
The City will investigate alternative bridge design, such as a span bridge, and continue to refine the feasibility study as more information is gathered. It was suggested an additional open house meeting be scheduled after more information is obtained, and more discussion has taken place with the permitting agencies. Communication of upcoming meetings and project developments was requested, and some open house attendees provided their email addresses with the City. The Public Works Commission will discuss an email routing list and other methods at their upcoming regular meeting.
May 1, 2015
Dream Island Bridge Replacement Project Begins
In the fall of 2014, one of the timber bridge piles on the Dream Island Bridge sustained damage from a beaver. This prompted bridge load limits to be placed, and a piling splint was installed in the spring of 2015. The bridge has been on a long range plan for replacement as it has nearly reached the end of its serviceable life, requires frequent maintenance, and does not meet current bridge standards for width and load service.
In 2015, the City began the process to make application for State Bridge Bond funding. This includes completing the necessary studies for bridge replacement; a survey of the existing conditions was completed this spring. A standard box culvert bridge design has been the basis for preliminary cost estimates to date. The City has received requests from residents to improve boat access and water circulation beneath the bridge if possible. This will be studied after existing bridge and lake bottom contouring has been mapped and cross-sectioned. A preliminary improvement hearing will be scheduled after the feasibility report has been completed, and more information has been collected. The City will present the findings of the study and receive input from interested residents at a hearing that will be scheduled this summer.
Pending feasibility, and funds available for construction, the construction would tentatively begin in the spring of 2016. Project updates and scheduled meetings pertaining to the project will be posted on this web page as they become available.
Project Manager
Dave Reese, PE, VP
Widseth Smith Nolting
Dave.Reese@wsn.us.com
Upcoming Meetings
No meetings scheduled
Project Timeline
On Schedule
Project Location