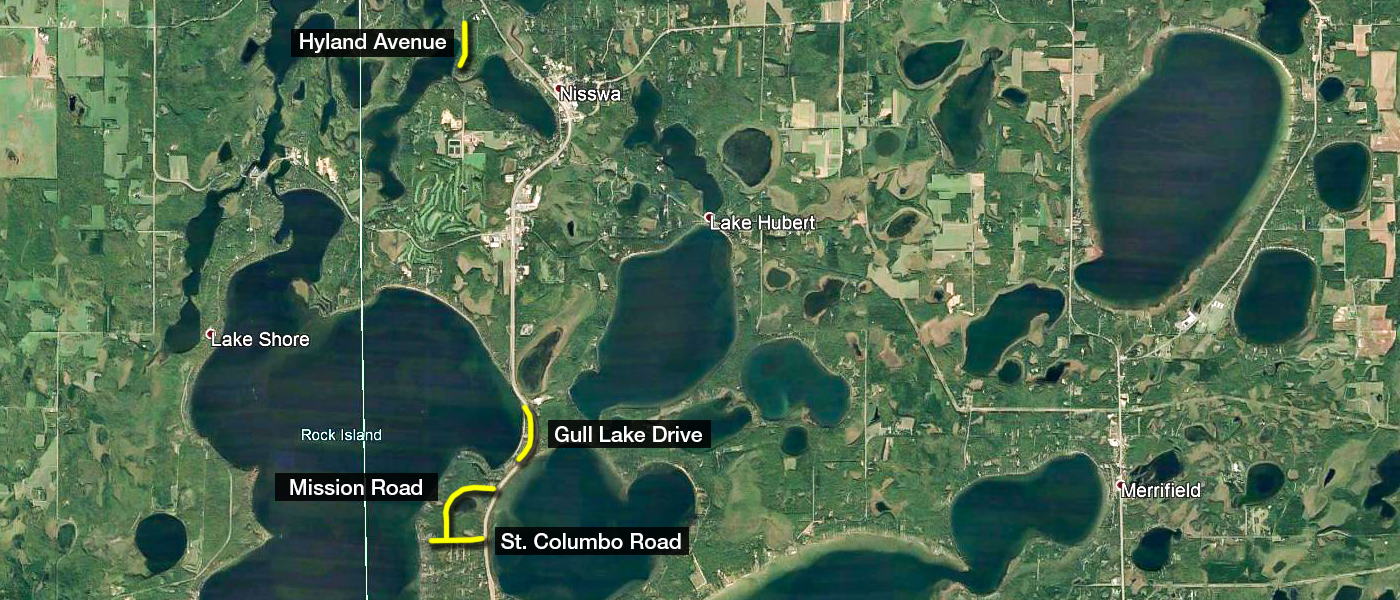 2018 Nisswa Street Improvements
Nisswa, MN
October 2, 2018
The 2018 Street Improvements project has reached substantial completion. All roads have been paved with 2 lifts of bituminous mix (one 2" base course and one 1.5" wearing course). Bituminous gutter was installed in areas with a steep road profile to prevent excessive erosion along the pavement edge. All driveways and intersecting roads have been addressed (with pavement or aggregate surfacing depending on existing driveway) to provide a suitable approach to the newly elevated road surface.
The remaining items to be completed are as follows:
Roadside grading and turf establishment

There will be some brush clearing as needed to allow for improving the green space along the road sides.
The green space will be shaped where feasible to receive and retain drainage and snow storage.
The road sides and shoulders will receive topsoil, seed, fertilizer, and hydro-mulch.

Mailboxes

Mailbox supports will be removed following all other work on the project.
Existing mailbox support and mailbox will be placed in owner's yard.
New swing-away supports will be installed so the face of the mailbox is approximately 8"-12" off the pavement edge.
Notices were sent to residents explaining their responsibility for transferring mailbox to new swing-away support (if possible) or purchasing a new mailbox as needed.
The grading and turf establishment operations will take place this week (10-1-18 to 10-6-18) and the mailbox work will follow. If there are any questions, please contact Nisswa City Hall or myself, Justin Schulz.
---
September 13, 2018
Construction has been ongoing for nearly a week and things are progressing well. All bituminous pavement reclamation has been completed and class 5 aggregate base is now being placed over the reclaim millings. This is to help shape the crown of the road and increase the long-term strength of the pavement. Class 5 will be placed and graded on the roads for the next couple of days.
Existing bituminous driveways will be saw cut beginning today and the pavement will be removed. There will be only enough pavement removed to allow for a smooth transition to be paved from residents' driveways to the top of the new road pavement.
The week of 9-17-18 will include the installation of a culvert under Mission Road. The road will be closed for a short period of time during this work (only a few hours). Following the placement of gravel and installation of culverts, paving is set to begin on 9-20-18.
Please drive with caution along these roads as construction continues. The roads will remain passable but equipment and crew members will be present at varying locations until the second week of October.
---
August 24, 2018
Knife River Corporation is the contractor on this year's street improvements project. They have provided their construction schedule. Construction will begin on September 5, 2018, with the bituminous pavement reclamation. The reclamation of all 4 roads will be completed in 2-3 days. The roads will be passable during and after pavement reclamation, though their surface will be more like that of a gravel road.
Following the reclamation the contractor will be placing class 5 aggregate base material over the roads to increase the strength of the road base and allow for the road "crown" to be graded. The roads will be passable during and after this operation as well.
Mission Rd will have slightly more extensive work done on the north portion near the wetland. This portion of the road may be closed for a short period of time. Please plan your route to avoid the closure during this time.
A bank of temporary mailboxes will be installed at one end of each road being improved. These mailboxes will be used while the contractor removes existing mailboxes and installs a new swing-away mailbox support. RESIDENTS WILL BE RESPONSIBLE FOR FASTENING MAILBOX TO NEW SWING-AWAY SUPPORT. Residents will also be responsible for disposing of existing mailbox support (to be removed by contractor and placed in resident's yard).
Project updates will be posted here on a weekly basis during construction. Paving is currently scheduled for the weeks of September 17th and September 24th. Construction will be completed by September 28, 2018.
---
June 28, 2018
2018 Nisswa Street Improvements
This project consists of four roads in the City of Nisswa: St. Columbo Rd, Mission Rd, Gull Lake Dr, and Hyland Ave. These roads will be improved by reclaiming the existing bituminous pavement, adding additional class 5 aggregate base material for shaping, and paving 3.5 inches of bituminous mix (a 2" base course followed by a 1.5" wear course).
Gravel driveways will receive a 1-ft apron which will protect the drive lane from being damaged by vehicles entering the road. Bituminous driveways will be sawcut and removed to a point that allows for a smooth transition to be re-paved up to the new pavement surface elevation.
Dead trees along the roads will be cleared and stumps removed. Brush along Gull Lake Dr and Hyland Ave will be cleared to provide a 10-ft clear zone off the side of the road.
Mailbox supports will be replaced with swing-away supports. Residents will be responsible for disposing of the existing mailbox support (to be removed by contractor and placed in resident's yard), and for fastening mailbox to new swing-away support.
Additional project information will be uploaded after the preconstruction meeting is held in the next 1-2 weeks.