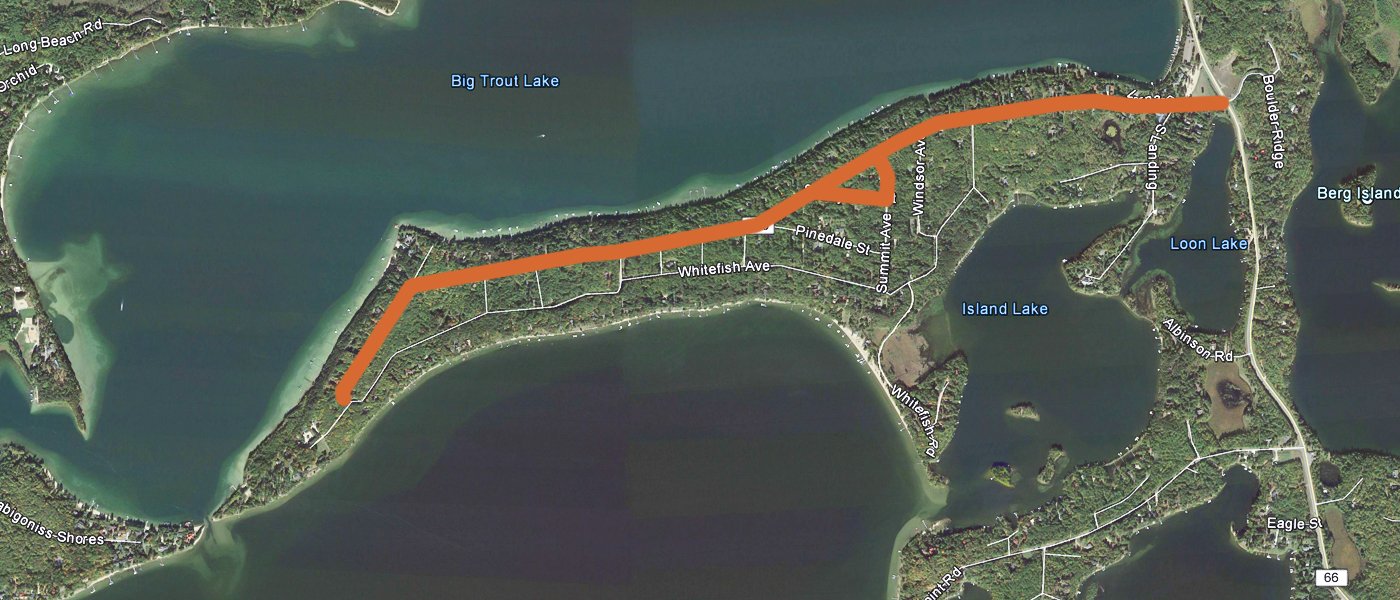 2018 Crosslake Street and Trail Improvements
Crosslake, MN
June 21, 2018
Project Status Report – 2018 Crosslake Street and Trail Improvements
The first lift of road paving has been completed on Manhattan Point Boulevard, and the single pavement lifts have been completed on Shadywood Street and Summit Avenue. Trail paving and driveway paving is being completed today. The schedule for upcoming work is as follows:
Friday 6/22 – The final wearing course of pavement will be constructed on the north half of Manhattan Point Boulevard. Paving of the south half of the roadway will be completed on Monday. No work is scheduled this weekend. Uneven pavement signs will be placed for the weekend.
Monday 6/25 – Paving of the south half of Manhattan Point Boulevard, topsoiling, and mailbox installations.
Tuesday 6/26 – Finish grading of topsoil, and completion of concrete work.
Wednesday-Friday – 6/27-6/29 – Fencing and hydro-seeding will be completed.
Week of July 9th – Roadway striping will be completed.
---
June 7, 2018
Project Status Report – 2018 Crosslake Street and Trail Improvements
Pavement construction has been completed at the City Hall parking lot; striping of parking stalls and seeding is anticipated within the next week. Road grading and concrete curb and gutter installation has been the focus this week on Manhattan Point Boulevard. Pipe culverts and storm sewer pipe installations are planned to start on Manhattan Point Boulevard in phases tomorrow and Saturday. The road will be reduced to one lane in these areas until the pipe can be backfilled; the contractor will have flaggers to direct traffic and minimize delays as much as possible. Work scheduled for next week includes continuing with pipe installations and trail construction. Temporary mailboxes have been placed in a few central areas to facilitate grading operations. If your mailbox has been removed to allow grading equipment access, please check the temporary mailboxes for your address and mail delivery. After road grading is completed, permanent locations for mailboxes can be determined and installed. Paving of the first lift of bituminous pavement may begin as soon as next week for road segments west from Whitefish Avenue. Thank you for your patience during the construction.
---
May 23, 2018
Project Status Report – 2018 Crosslake Street and Trail Improvements
Pavement reclaiming has been completed and Anderson Brothers Construction is currently working on grading for the roadway and trail on Manhattan Point. The contractor may need to temporarily relocate mailboxes in some locations to complete the grading work; mail delivery will continue. Culvert pipe replacements and storm sewer piping is planned for installation over the next few weeks. There will be temporary traffic delays associated with this work as the pipes will cross MH Pt Blvd; however, the Contractor will keep one lane open around these excavations to keep traffic moving. Road construction activity will conclude this Friday and over the Memorial Day Weekend, and will resume on Tuesday, May 29th. Paving of the City Hall parking lot is currently planned for Thursday next week. Utility companies are also working along the construction zone on Manhattan Point to relocate overhead power poles and guy wires where this is necessary. TDS Telecom is installing new underground facilities from Camp Knudsen northward and then east along MH Pt Blvd to approximately Hilltop Drive. Please check back for further updates as work progresses.
---
May 9, 2018
Project Status Report – 2018 Crosslake Street and Trail Improvements
Roadway pavement reclaiming (milling) is planned to begin on Monday, May 14th. This will include Manhattan Point Boulevard, Shadywood Street, a portion of Summit Avenue, and the City Hall Parking lot and drive. Traffic will continue on these roadways, and accesses to driveways will be maintained. Please use caution around the construction equipment and crews, and observe appropriate speeds.
---
April 30, 2018
Project Status Report – 2018 Crosslake Street and Trail Improvements
Tree clearing and stump removal operations are nearly completed along Manhattan Point Boulevard and near City Hall. There will be additional brushing and tree trimming to follow. An updated project schedule has been provided by Anderson Brothers Construction; this schedule has been posted on the project web page. With snow and frost quickly disappearing, the schedule has tentatively been moved up one week. Property owners that own private underground utilities located in the road right-of-way are encouraged to stop by City Hall to pick up marking flags and mark the location of your underground facilities. This will aid in minimizing damage to your facilities during the road construction. Utility crews will be relocating underground gas and communications cable in the next few weeks. Survey crews will be placing construction stakes in the next week to assist utility companies and the road contractor. Please help us protect these stakes; they will be removed when construction has been completed. As construction work begins to increase, please plan ahead for extra time to get to your destination, and maintain safe speeds through the construction zone.
---
April 10, 2018
Project Status Report – 2018 Crosslake Street and Trail Improvements
A Pre-Construction Conference was held on April 2, 2018. The Contractor (Anderson Brothers Construction) provided a preliminary schedule that has been posted on the web page for reference. This schedule may be updated periodically. The Contractor has been authorized to begin vegetation clearing and tree trimming the week of April 9, 2018. Stump removal and grading is scheduled to begin mid-May. Please look for further project updates to be posted as more information becomes available.
---
March 15, 2018
Project Status Report – 2018 Crosslake Street and Trail Improvements
The City Council, at their March 12, 2018 meeting, awarded a construction contract to Anderson Brothers Construction of Brainerd, MN for their low bid of $889,577.89. Property owners have expressed interest in obtaining the contact information of the project contractor to solicit private quotations for driveway paving in conjunction with the road project; please call Anderson Brothers Construction at (218) 829-1768 for these inquiries. After contract documents have been executed, a Pre-Construction Conference will be scheduled with the contractor and utility representatives. A project schedule will be provided at that meeting by the contractor. The schedule is tentatively as follows: clearing of vegetation may begin in April. Relocation of utilities will be dependent on ground frost conditions, but is anticipated over the month of April to mid-May. The road construction start date is estimated to begin around May 21st. We will post the schedule provided by the contractor after the Pre-Construction Conference has been held. Please look for further project updates to be posted as more information becomes available.
---
December 15, 2017
Project Status Report – 2018 Crosslake Street and Trail Improvements
In September 2017, the City of Crosslake initiated the design of selected road and trail improvements that have been planned since 2010 for the Manhattan Point peninsula area. Surveying and utility meetings have been completed, and preliminary design for the 2018 project is underway. Notices have been mailed to property owners for an open house scheduled for January 3, 2018, at 4:00PM at City Hall to discuss the proposed project. The Notice and project area map have also been provided on the project web page. Interested parties are encouraged to review the Notice and attend the open house where additional information will be available, and neighborhood concerns and/or input can be shared with the City.